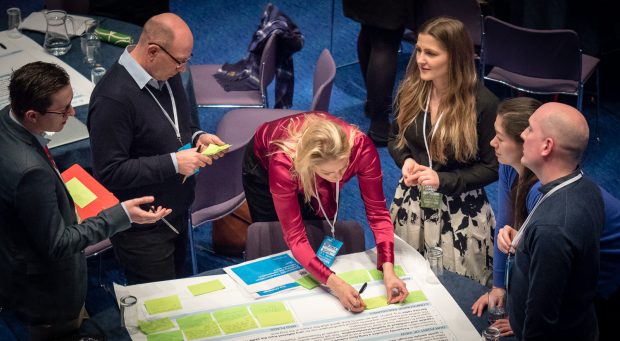 It's been a great year.  We're excited about what teams have done with the 7 Lenses of Transformation and the maturity matrix so far and we're looking forward to how this will develop over the year ahead.
Since we published the 7 Lenses of Transformation a year ago, it's been used with the 7 Lenses maturity matrix across the Civil Service, local government, and overseas. It has expanded from the initial guidance to a set of tools that are helping tens of thousands of people deliver some of the hardest challenges facing government today.
As the 7 Lenses reaches the 1-year milestone, we wanted to reflect on an exciting 12 months, so do read on.
The 7 Lenses of Transformation is government's framework for major transformations. We know changes of this scale and complexity are by their nature difficult to understand, so the 7 Lenses is a set of different viewpoints you can take which will help you build a complete picture of what's going on.
The Lenses encourage you to think about 7 key elements: vision, design, plan, leadership, collaboration, accountability, and people. An article on the Apolitical website written by the heads of the Infrastructure and Projects Authority (IPA) and the Government Digital Service (GDS) briefly summarises the Lenses in a bit more detail.
The original framework was written by the transformation community at Transforming Together events, tested and evolved with practice over a couple of years before its publication. Having a common language across government helped us learn from each other in a structured way and swap tips for success more easily.
Over the last year, the 7 Lenses frameworks have been read by around 30,000 people, and the 7 Lenses Maturity Matrix has been downloaded over 7,000 times since it was published in September. We have printed and distributed 4,500 booklets. They have been used in the biggest transformation projects in government, embedded in training across disciplines, and picked up internationally.
Sharing and learning
In recent months, we've seen teams start to share more detailed examples of excellent practice in different lenses.
It has been used in Universal Credit – where Senior Responsible Owner Neil Couling said that the Lenses gave him a way of "seeing the wood from the trees". Making sense of programmes the size of Universal Credit is no easy task, and the Lenses provided a structure for Neil and his team to do just that.
The team transforming HM Courts and Tribunals Service used the lenses to review their progress, helping them deliver an incredibly complex portfolio. It was a really useful tool for them to have structured conversations about whether they were on track, learning from their peers across government.
The Crown Commercial Service used the lenses and shared their transformation vision, and what they learned along the way. It's a fantastic example of a team doing something tricky and working in the open while doing it. This makes it easier for others to follow in their steps.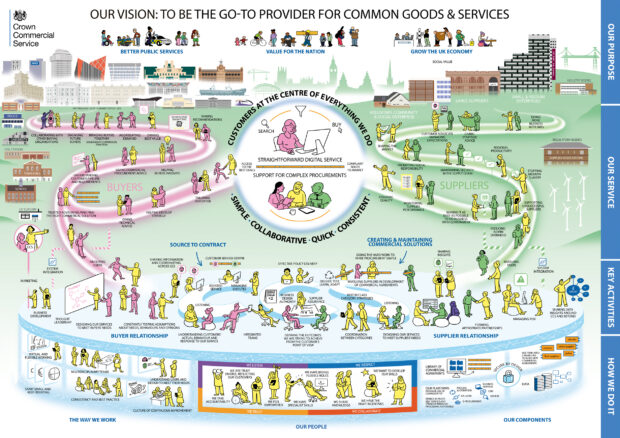 The Independent Office for Police Conduct shared their approach to engaging people and gaining support across their organisation – delivering against the 'people lens'. This is a small team doing exciting things, and they are inspiring people across government.
Our team are recording and sharing examples of people using the Lenses and the lessons they learn along the way. This blog post about people using the maturity matrix has a lot of tips on how to get the most out of it, and this piece on the positives of giving your work a 1 out of 5 rating explains the value of the conversation.
The 7 Lenses is also being worked into training across different professions. The IPA's programmes for senior leaders all focus on what it takes to deliver a transformation programme, using the 7 Lenses as a base for this learning.
The GDS Academy's courses on leadership use the frameworks, and the Organisation Design and Development team have run sessions with GDS on using the lenses as well.
And they have started travelling the world, making appearances in the Civil Service College in Singapore, and being shared with international delegations from a wide range of countries.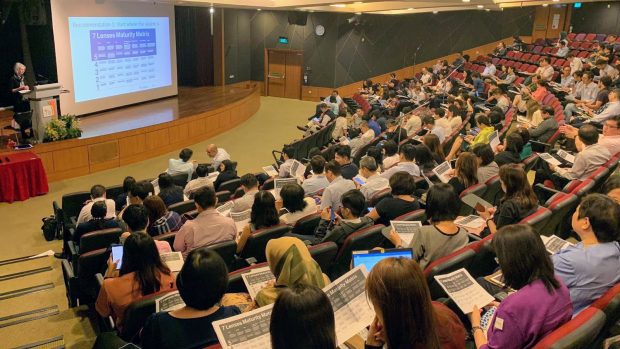 Looking forward
We will continue to share great examples and good content on our blogs and on GOV.UK, so do let us know your experiences. We're excited about learning how people are using the frameworks and what people find when they keep using the maturity matrix to assess their projects at regular intervals to check their progress.
We're building on what we've done as well. In particular, keep your eyes peeled for more information on the guide for Senior Responsible Officers (SROs) in government: the Art of Brilliance. We think that will really help people understand what SROs leading transformation projects can do to move their performance from 'good' to 'great'.
We hope you continue to use the 7 Lenses. They were written by the transformation community, and they will continue to be a key part of how we work together to deliver some of the biggest challenges facing our organisations.