The 8th Transforming Together event in Cardiff was the best yet, and it harnessed the enthusiasm and passion for transformation in government. It was hosted by the Transformation Peer Group, in partnership with the Driver and Vehicle Licensing Agency (DVLA) in the Principality Stadium.
Thanks to our colleagues at DVLA, here's a video of some of the highlights: 
We welcomed Transformation professionals from across the public and private sector under the theme of 'innovation through people.' The day really was about the people. We were joined by 250 people from 49 different organisations. All of whom were able to share their practical experiences of transformation, and 98% of attendees said they would recommend the event to a colleague.
It's all about the people
Sustainable success means putting the people first. By creating the right environment and culture for people to thrive, projects are better delivered.
This was a recurring message throughout the day, beginning with the Transformation Peer Group sharing highlights from their recent research into people and culture in transformation projects.
Dave Perry, DVLA Chief Technology Officer and Caren Fullerton, Welsh Government Chief Digital Officer, continued this message sharing their experience of what it takes to deliver transformation. Sophie Howe, Welsh Government's Future Generations Minister, talked about the need to harness the energy and enthusiasm of frustrated champions across the Civil Service.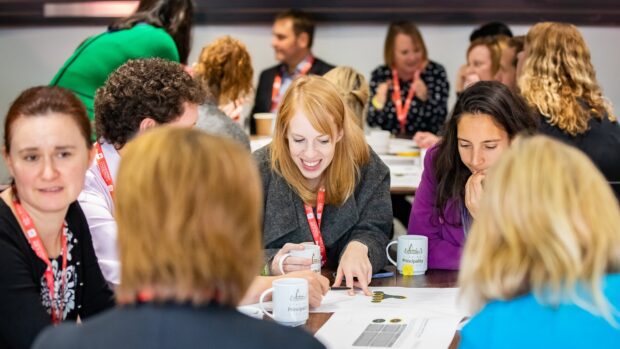 Much of the day was spent in practical workshop sessions. The Office for National Statistics and Civil Service Group brought people together to talk about what we need to do to build collective and diverse leadership outside Whitehall. Y Lab, the Public Services Innovation Lab for Wales, led a conversation on change methods and mindsets to unpack how practicing innovation can lead to better transformation.
The Government Property Agency shared their experience on creating inclusive cultures through Government Hubs and Public Health England shared their insights on sustainable, people-centred transformation.
Having a better conversation about transformation
During the event the Home Office and Transformation Peer Group published the 7 Lenses Maturity Matrix. This is based on the 7 Lenses of Transformation, which shares common success factors, challenges and lessons of transformation from across government. The Maturity Matrix is a concrete step forward in applying this knowledge more consistently for those leading, implementing and governing transformation.
The Transformation Peer Group outlined how GOV.UK/transformation is becoming a single place to codify best practice, share our lessons, and assemble evidence to support better decision making in transformation programmes.
Thank you
A big thank you to everyone who attended Transforming Together and made it such an interesting and informative event.
Our priority over the coming months is to continue to share the 7 Lenses of Transformation with those implementing, leading, approving, financing and governing transformation. This will help us assemble the evidence necessary to increase the scope and depth of our current tools and guidance.
Our next Transforming Together will be focused on themes of vision and design in the new year. We're already looking forward to it.
To hear more about future Transforming Together events, please sign up to our mailing list.

Subscribe to this blog, and check out GOV.UK/transformation for the latest tools, guidance, and research.